In a big city like New York, bicycles are everywhere. They're used by couriers and delivery people at work, commuters who prefer the sun and open air to the underground subway system, and tourists hoping to take in as much of the city as possible.
In addition to privately owned bicycles, New York's Citi Bike service allows out-of-town visitors and tourists to rent bikes—per their website, it's "faster than walking, cheaper than a taxi, and more fun than the subway."
There are a lot of reasons to ride a bike in New York, and the accident attorneys at The Dearie Law Firm, P.C. are well-versed in bicycle laws. If you've been injured riding a bike in New York City during your work or leisure, you need an NYC bike accident lawyer with the experience and skill to protect your rights.
New York leaders want people to ride bikes. It behooves the city to have fewer cars on the road and fewer people crammed into rush-hour subway trains, and it's generally better for the environment and the city's carbon footprint than other modes of transportation. There's also a lot to be said for taking in the city on a bike; the historic architecture and ample street-level landmarks can be uniquely appreciated by grabbing a Citi Bike and hitting a tour route.
However, there's inherent risk involved in riding a bike in NYC. Even putting aside the dense traffic, opening and closing taxicab doors, and the crush of pedestrian bodies, the streets are full of potholes, and bike lanes are treated as shortcuts for vehicles more often than not.
The negligence of drivers and others on the roads constitutes a huge threat to the safety of cyclists. Here, we'll examine some statistics relating to Citi Bike and bicycle accidents in New York and discuss steps you should take after you've been injured in a cycling accident.
NYC Bicycle Accident Statistics
Even though bicycling in New York is risky, it's safer now than ever before. Thanks to citywide efforts geared toward increasing bicycle safety, awareness, and public usage, the number of people killed or severely injured in bike-related accidents has been reduced from 83.4 per ten million trips in the year 2000 to 23.5 per ten million trips in 2014.
While this represents a 72 percent decrease in risk of serious injury to New York cyclists, that doesn't mean that taking to the streets on a Citi Bike is necessarily safe.
According to the NYC Department of Transportation, in 2015 there was a total of 4,433 bicyclists injured citywide in accidents involving motor vehicles, with the bulk of these taking place in the bike-heavy boroughs of Manhattan and Brooklyn.2
In addition to injuries, there were fourteen bicyclists killed in motor vehicle accidents citywide; Brooklyn and Queens, with four and five fatalities, respectively, are the most dangerous boroughs of New York for bicycle fatalities.
With so many residents, visitors, and tourists taking advantage of Citi Bike stations and private bicycles throughout New York, it's important to know your rights and be cognizant of what to do in case of an accident.
Whether you're involved in an accident with a motor vehicle, another bicyclist, or a pedestrian, or simply experience a Citi Bike malfunction leading to personal injury, accident attorneys agree that there are a few steps that should be taken in order to aid your case and help guarantee the best possible outcome should you require representation.
Avoiding an Accident
While some crashes are unavoidable, bicyclists who follow the letter of the law and keep their wits about them stand a much better chance of avoiding motor vehicle-bicycle accidents which may result in injury or death. New York City laws pertaining to bicycle riders are designed to protect the safety of bicyclists, and, below, we'll share some basic tips for staying safe and avoiding danger.
Always wear a helmet. Whether you're using a Citi Bike or riding your own personal bicycle, helmets are designed to prevent injury and fatality in the incident of a bicycle crash.
Use bike lanes where available and stay off the sidewalks. Unless you're a young child, sidewalks in New York are for pedestrian traffic only; bicyclists are expected to share the road and ignoring this rule can lead to bicycle-pedestrian collisions.
Be watchful and stay visible. Make sure that you wear reflective material as part of your clothing, backpack, or helmet, and make sure that your bike has the appropriate reflectors in place; this is particularly important for nighttime riding.
Look out for taxis. If you see a taxicab or any other vehicle stop on the side of the road, it's safe to assume that one or more of the doors will be opened. Avoid a collision with the door by staying aware of your surroundings and steering clear of opening doors.
Citi Bike Accidents: Important Steps
Since Citi Bikes are a service provided to the public for a fee, there are certain guarantees and protections in place to protect riders from malfunctioning bikes and equipment. If you're renting a Citi Bike and are involved in a crash or other accident, it's absolutely crucial that you:
Call the police. Even if you don't think you're seriously injured, you should call 911 and wait for the police to arrive so that you can file a report. Some injuries, particularly those of the spine, neck, and internal organs may not present themselves right away; it is in your best interest that you to have a police report on file for reference if you end up fighting for compensation later.
Call Citi Bike. Citi Bikes are subscription-based, but fees apply for any ride lasting longer than 45 minutes. Even if you're involved in an accident, you remain responsible for the bike until it's been docked at a Citi Bike station or handed over to a representative. If you don't return the bike or contact Citi Bike within 24 hours, you could be on the hook for thousands of dollars of fees, which will be automatically charged to your credit card.
If you're able, collect as much crash data as possible while still on site. Use your smartphone to take photos of your bike, the involved vehicles, and any conditions in the road that may have contributed to your accident. You should also attempt to obtain vehicle information, such as license plates, insurance, and the names of all drivers and passengers involved.
Seek medical attention. If you are involved in a crash with a motor vehicle in New York State, no-fault insurance provides up to $50,000 to cover medical expenses or lost wages. Do not be fearful of medical bills, as an examination by a doctor following the accident may end up being very beneficial for later arguments in court.
If you sustain serious bodily injury due to a motor vehicle-bicycle crash, New York state law allows for compensation over and above the no-fault benefits; for this reason, it's important to contact a seasoned NYC bike accident lawyer with experience fighting for the rights of bicyclists.
Having the right accident attorneys on your team can make all the difference when it comes to pursuing a claim, particularly against Citi Bike and New York itself.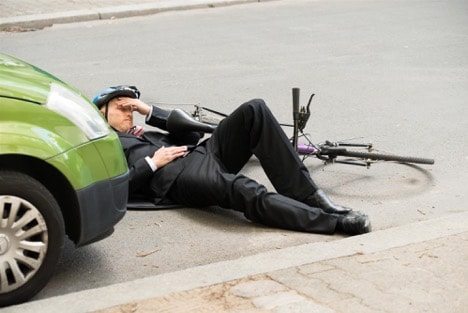 Whether you're involved in an accident with a private vehicle, injured due to roadway conditions such as bike lanes in disrepair, or in a crash with an MTA or another public service vehicle, a bicycle attorney will be your ally in the process of claiming your due compensation.
Place Your Trust in the Best
If you've been injured in a bicycle accident, you may be asking yourself "what kind of lawyer do I need?" Whether you're a lifelong New Yorker or were injured on a visit, The Dearie Law Firm, P.C. is here to protect your rights and fight for the best settlement possible. Your representation at The Dearie Law Firm, P.C. will be the best bicycle accident lawyer NYC has to offer and will work with you on the specifics of your claim to guarantee the best possible outcome.
We've been serving New York and protecting the rights of bicyclists since 1986. In the last thirty years, we've represented thousands of injured clients and helped them win hundreds of millions of dollars in compensation for injuries resulting in the negligence of others. Contact The Dearie Law Firm, P.C. today at (212) 970-6500 and get your bicycle claim underway.
Sources
1. http://www.nyc.gov/html/dot/downloads/pdf/nyc-cycling-risk.pdf
2. http://www.nyc.gov/html/dot/downloads/pdf/bicycle-crash-data-report-2015.pdf